by Mad Man on May.08, 2010, under Beyond the Madness
There is nothing as ambiguous as having a mark on your back in a tournament.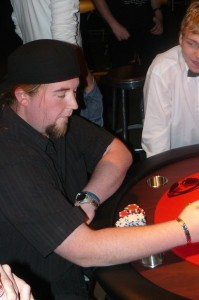 When you're on a hot streak you love the fact that everybody is coming after you. It's like the victims are just lining up to be butchered by your string of straights, flushes and sets.
But when you're not running so hot, having people constantly aiming for your chips, rather than those of your neighbour, can be an immensely frustrating part of the game.
With TPC X coming up, I thought I'd give a few short pointers about what to do when you feel all eyes being on you.
Because, believe me, I've had people coming after me with a passion more than once on previous editions of the tournament.
First of all, you need to realise something very important: When you have to deal with people seeming to have it in for you, it could mean a couple of things.
First of all, it could mean that you are vulnerable to things like this, in which case, you have a big problem. There's probably nothing as exploitable as a guy not being able to handle being called down a lot.
How do you become vulnerable for this? Well, a lot of people see players like Tom Dwan, Victor Blom or Lex Veldhuis on television and don't seem to realise that for every "wild bluff" these guys pull there's probably about 20 times when the same type of hand, played in exactly the same way by exactly the same players would result in a massive pot going to these guys.
But T.V.-poker is not fun when it's not spectacular. It's just much more fun to see Phil Ivey sweat on a call for about 3 minutes on a durrrr-bluff then it is watching Chris Ferguson play decent standard balanced poker.
Add to that, a player like Dwan realises very very well that the amount of money going into a pot is by far the biggest factor for any player with at least some sense in his head. There comes a point where being a 75% favourite to Durrrr is no longer worth the risk of loosing a huge pile of money once every 4 hands.
Also, as you see, I've been analysing this hyper bashing strategy from a ring game point of view.
Newsflash kids: the big bluffing, highly risky moves you see Dwan pull off on High Stakes Poker have nothing to do with tournament poker, and even if it is used in a running structure, like Veldhuis did in 2009 during the WSOP, the fact that nobody calls, while you're thinking "if only someone would call this prick !", it's probably because somebody did and it backfired and because Lex recognized a table not willing to risk a tournament on a bluff catch that early in the venue.
In all other cases, this style is just pure rubbish. I've had guys comparing my "Bullying the bully" with what Veldhuis did in the last main event, but these things have nothing to with one another. Lex' tactic was based on nobody willing to gamble, "Bullying the Bully" is based on punishing the gambler for gambling in forcing him to either shut down or shove in.
So, if this is the case, and you feel like you have a big red mark on your head people like to shoot at, it's time to change gear. You are being pested on, because your style allows that, it has nothing to do with any of the following.
Because there are of course other reasons why people could be coming after you.
In fact, the most common reason is because you are a tight aggressive player. Yes, people are chasing after you, because you play standard ABC poker. When you just started out, every website, every book, every player already in the game, every DVD, video and article told you the way to go was tight aggressive. Wait for a hand you can defend strong with or attack fiercely and then do so.
Often do you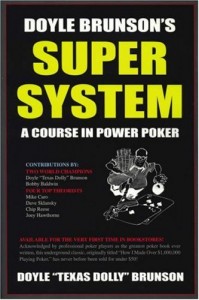 forget that's exactly the advise every guy around you got. Yes, we have all seen Lederer's DVD's, yes, we've all read the Hold'em bit in Super system, yes, we've all seen "learn from the pro's".
You need to realise that what you are playing is so commonly known that for every basic poker player, even if he is now playing very loose, TAG is a second nature, it's what we all grew up in, it's the standard on which everybody around you planted his own specific characteristics.
And that's the problem, right there. In a deceptive game with that much of psychology, like poker is, if you're never prepared to think outside of the box, to do what's wrong because now is the right time, your opponents will know exactly what you're doing. They saw the same material you learned from.
Add your own input to what you learned from the books, or don't be surprised that a standard play gets recognized by players better at interpreting these books then you are, let alone players who read the book and moved on.
However there is one reason why people having it in for you is a great feeling.
It could be that people constantly attack you, … because you scare them. All ex-champs of TPC have told me the same thing. The hardest seat to be in is table 1, seat 1. Everybody knows who you are, and everybody wants to be the one taking you out. Why? Because you just proved that you can win this thing, seeing you get strong is probably the scariest thing ever to the rest of the table. Name-players (everybody in our group has this problem) or loud players (style: myself, Jeroen Vanacker, Dennis Van Hove, …) will have people attacking them more often than people keeping a low profile.
This however is a good thing. Fear in the other guy is always your friend. It looks like people are playing like they have nothing to loose against you, but they desperately want you out, preferably strengthening up in the process. When you in turn start to threaten them, you'll quickly see that they would rather avoid your rages and easily back out, even out of hands that are somewhat legit. When people know you for what you do at a poker table, you get 2 effects: they put you on a bluff more easily or they'll give you far too much credit. It's now your job to figure out which case you're handling here.
When people get after you just for being you, the only thing you need to realise is that, however arrogant it may look or sound, you're probably a better player than they are. Stay calm, play your game. Whatever you do, don't change your style. If you're really that much better, you've probably already implemented a change in gear to deal with more action on your hands, and in the long run, you should do just fine.
Well, next post will most likely be after TPC X, and I hope I have some good news to tell you by then.
Should you have some questions about this all, find us, we'll be the ones with the spot on our back.
Untill next time, take care,
The Mad Man
Leave a Comment
more...